Unique nature
Satisfy longing in the mountain world
Real hiking pleasure
in Germany's No. 1 hiking region
Box seats around Krün
Karwendel and Zugspitze within reach
Enjoy and take time
for the beautiful things in life
Discover Krün in the four seasons
When the first crocuses bloom and the first tender shoots sprout on the trees, then it is mountain spring in Krün. The transition from winter to summer is particularly beautiful around Krün. Nature sprouts, the streams gurgle and the birds chirp a new song. From March to May, nature awakens in the mountains after a long winter. An incomparable flower splendor unfolds due to the sun's rays becoming stronger. In no season are the colors more intense: colorful flowers, fresh greenery and white peaks. Experience this season during hikes, excursions and bike tours.
The surroundings of Krün await you with blooming alpine meadows, imposing alpine peaks and crystal-clear mountain lakes, which invite you to swim in summer. A mountain summer between Karwendel and Zugspitze is a vacation full of lasting impressions. High up, in the midst of this unique natural panorama, the head is free from everyday stress. How wonderful it feels to hike through the forest, to awaken your spirits barefoot in the clear mountain stream, or to let your eyes wander from the peaks over the valley. Take a refreshing dip in one of the numerous mountain lakes and become one with nature. Find also the small happiness at the rest on a sunny bench or at the snack in a rustic hut. Go in search of your personal favorite places on numerous hikes, mountain or mountain bike tours, and swimming excursions.
In September and October, Alpenwelt Karwendel invites you to the "Farmers' Weeks". During this time, the goats, sheep and cows return to their home farms from the summer pastures of the upper Isar Valley. The highlight of the farmers' autumn is the big Almabtrieb, which is celebrated in regional costume with a large marquee and music. Immerse yourself in the Upper Bavarian lifestyle or enjoy the tranquility of the colorful mountains. Bright reds color the mountain forests and meadows in a soft autumn light. Soak up the sun and unwind on hikes, mountain or mountain bike tours in our fog-free nature around the Zugspitze.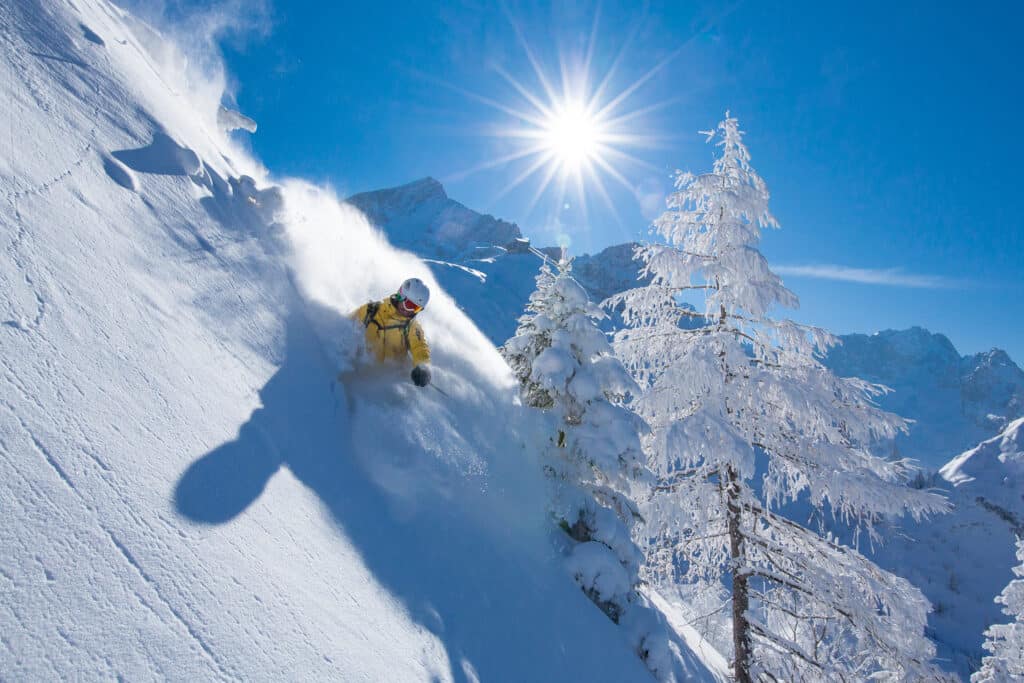 Snow crystals glistening in the sun, the crunch of footsteps in the frozen snow and the endless peace and quiet all around – that's the winter around Krün. In addition to the winter fun in the ski resorts Garmisch-Classic, Zugspitze, Mittenwald and Seefeld, the unique untouched winter landscape in the valley invites you to relax and unwind. On unique panoramic cross-country skiing trails, with snowshoe and ski tours, tobogganing, horse-drawn sleigh rides, ice skating and torch-lit hikes you create your active winter with the whole family in Alpenwelt Karwendel.